Want to become an Air Hostess?
Wings Institute equips students with all the required skills and knowledge to prepare them to serve as a Cabin Crew with domestic and international airlines.
Know More About Our Courses
Fill this form and share your details, our Counselor will contact you soon, Thank you.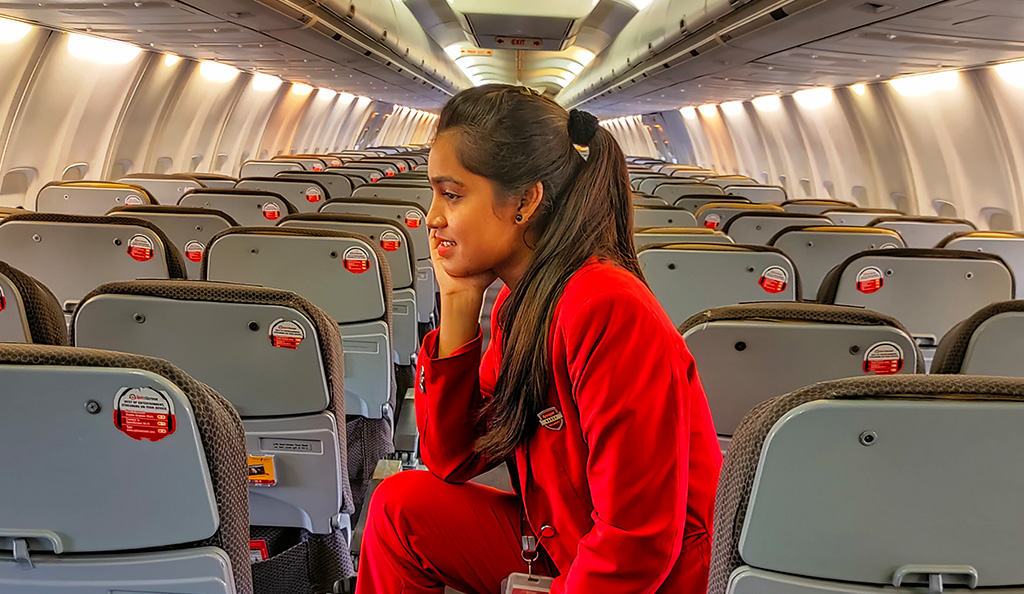 An Air Hostess or a Cabin Crew or a Flight Attendant is the face of any airline. You are responsible for the safety and well being of all passengers on board. You will represent the image of your airline and carry its prestige to the passengers. Thus it is vital for all aspirants to undergo proper Air Hostess training.
If you love to travel and meet new people, Cabin Crew career is ideal for you. Your job as an air hostess will give you lots of opportunities to travel, visit and explore many different countries and cities. Most of the airlines provide lots of incentives to their employees apart for a high salary job.
You get the opportunity to meet people from different countries, celebrities, politicians, top business people, stars, famous personalities and VIP – VVIP guests and more, not only from India but across the globe.
Also, a very big advantage while you work with the airlines, employees get huge discounts on the tickets not only for you but also for your immediate family and full medical coverage or health insurance. Thus, you will be able to travel the world.
If you have a dream and you are serious about becoming an Air Hostess you can surely increase your chances of being successful with a certificate from Wings Institute.
Why apply for an Air Hostess course?
5 great reasons to become an Air Hostess
1. Multicultural Team Mates
A Job as a cabin crew gives you the opportunity to work with a different people on each flight, your peers and seniors will be from different regions, states or countries. You will have a chance to learn different cultures and interact with people from all around the world.
A dream career to fly high comes along with a job in the sky, you will be working 30000 feet above the sea level. There cannot be anything more exciting then working in the skies.
3. Travel Around the World for Free
Cabin Crew career comes along with a very popular saying, "Get paid to see the world". Airlines have fleet of aircraft going from A to B destinations across the world. You will get opportunity to visit new places, new cities and new countries for Free.
4. Turn your dream into a reality
Many candidates have dreamt of a career as an air hostess since they were a child. At Wings, we believe that if you are passionate about you career you can fly very very high.
5. Flexible Work Schedule with High Salaries
A Flight Attendant job comes with a flexible schedule, you will not have fixed working hours like any office schedule. Air Hostess profession allows you to enjoy ample free time with friends and family.
Cabin Crew Salaries are higher than most jobs offered to high school students and fresh graduates.
Who can apply for an Air Hostess course?
Young girls and boys aged 17 years and above

12th Pass or Appeared or Diploma Students or College Graduates

Gujarati, Hindi, English or any Medium Students
Becoming a cabin crew is easy. All you need to know is who and how can you apply for a job as an air hostess.
Air Hostess careers are for young boys and girls those who have passed their 10+2 examination (any stream, any board or any medium of instruction). or any bachelors degree are eligible to apply.
To become a cabin crew you must be 18 years of age and you must desire to have a career in the sky. Love for travel and meeting new people everyday. After your board exams you can pursue a part time professional training course at Wings Institute.
After your 12th, our Aviation and Hospitality course will teach and prepare you to face an airline interview and also equip you with basic knowledge and skills required to become a cabin crew.
Post your hiring process most airlines train you as per their aircraft, norms and policies.
If you have the dream and the desire to fly high and work with the leading airlines of the world and make a flourishing career after 12th, domestic and international airlines are certainly open for freshers looking for a career as an air hostess.
Airlines look for the following qualities in their Air Hostess recruits:
Customer Service Driven

Pleasant Manner

Good Communication Skills

Team Player Attitude

Conscientious

Confidence
If you possess these qualities and have a true desire to fly…
Don't miss your chance to widen up your horizons.  Just come to the best Air Hostess and Hotel Hospitality Institute in India and discover all your hidden capabilities.
About the Air Hostess Course
At Wings Institute, we offer an air hostess training course which is combined with academic knowledge and lots of practical training.  Our course will equip you to become a successful cabin crew and help you achieve your dream of flying high 30000 feet above the sea level.
There are two types of Air Hostess Training Course at Wings.
One Year course, with a part-time attendance. Classes are 4-hour long, from Monday to Friday.
Six Months Course, with a part-time attendance. Classes are 4-hour long, from Monday to Friday.
One Year Course is a Five in One Course:
Air Hostess Training

Airport Management (Ground Staff Training) & Airport Hospitality

Travel and Tourism Management

Air Ticketing Course

Hotel Management
Six Months Course is a Three in One Course:
Air Hostess Training

Airport Management (Ground Staff Training) & Airport Hospitality

Customer Service
Additional Free Courses and Training:
Spoken English

Personality Development

Basic Etiquette Training

Grooming and Make-Up Sessions

Gym, Zumba, Meditation and Yog

Customer Service Training

Basic First Aid

Swimming Classes

Job Skill Training
Apart from the Training and Course Material, the tuition fee includes two uniform sets, Make-Up Kit for females or the Grooming Kit for males and a professional photo shoot for your future CV. Terms & Conditions Apply*
During the course of studying at the Wings Institute, we will teach you how to successfully communicate with passengers and resolve conflicts. You will be studying  communication etiquette and how to tackle difficult cases and passengers.
More importantly, you will be taught how to behave in emergency situations and how to do CPR. Of course, it won't make you a doctor, but you will be able to give the basic first aid if someone gets sick or faints during the flight. These skills are essential as life is unpredictable, and you never know what kind of accident may occur.
In addition, our unique mindset training program will improve your ability to fight stress and get over jetlag. Constant flying is tough on your body and mind, so you will have to learn how to relax and get the rest you need.
Finally, our courses include a mandatory English language crash course. English is a modern "lingua franca" of our world, so as an international flight assistant you should understand and speak it.
At the end of the training, you will receive a Course Completion Certificate together with Cambridge Certificate for English and so much more.
Wings Institute will provide 100% Job Search Help and Assistance. Wings Institute assists students with job search, interview preparation and resume making,
 Disclaimer: Wings Institute does not make any implicit promises or does not give any guarantee for any placement or jobs. Students are paid salaries according to their abilities.
*Please consult your counselor for the list of deliverables for each course type. The materials may vary as per the course duration and fee.